---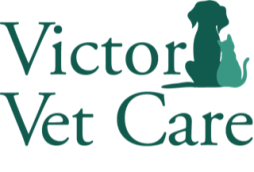 THE BEST CARE FOR YOUR BEST FRIEND.
Victor Vet Care is a privately owned full service animal hospital for cats and dogs. We provide comfort and care to our furry friends like they are part of our family. With a certified Fear Free staff we put the emotional and physical needs of our patients first. Using a Fear Free model means that we strive to not only reduce the anxiety of a vet visit, but we work to calm and relax our patients so that every visit can be a great visit.
If your family pet is anxious about a vet visit call us today to discuss ways we can help reduce that stress even before they step one paw in the office.
To read more about the Fear Free philosophy please click on the information page or visit Fearfreepets.com.
Victor Vet Care is the culmination of a life time dream and a long career of constantly learning how to treat pets right.
585-398-7373
Hours of operation:
Monday, Tuesday, Thursday: 8:00 a.m. - 6:00 p.m.
Wednesday: 8:00 a.m. - 12:00 p.m.
Friday: 8:00 a.m. - 5:00 p.m.
First and Third Saturdays: 8:00 a.m. - 12:00 p.m.
Sunday: Closed
---